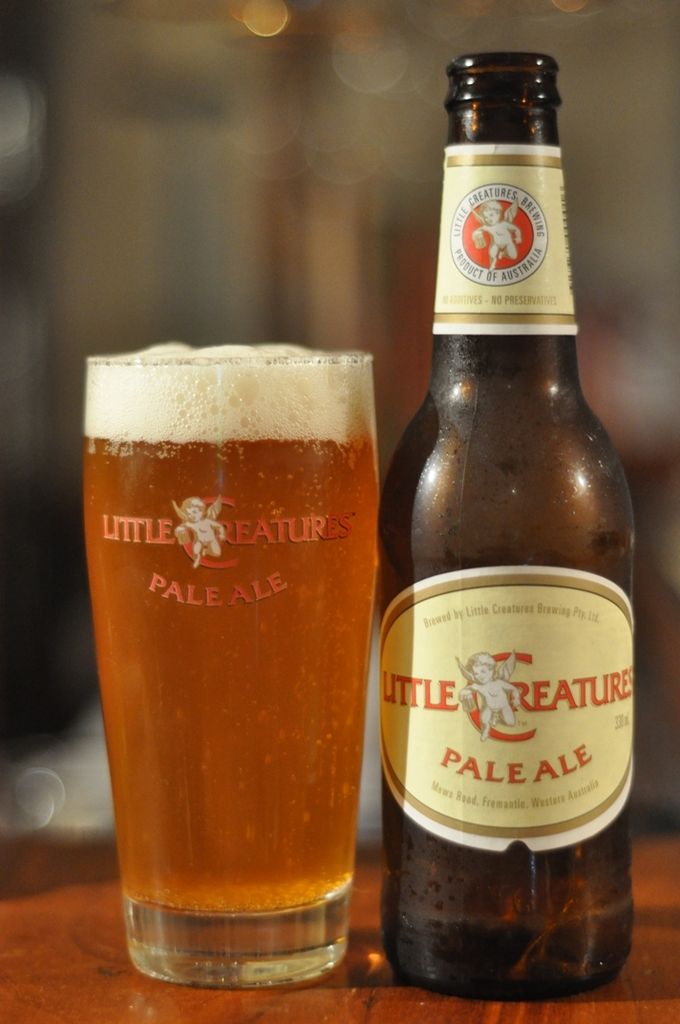 Fridge Regular

STATS
Country: Australia
Style: American Pale Ale
ABV: 5.2%
Serving Type: 330ml Bottle
Price: Inexpensive
I've been receiving a few emails lately about how I don't review enough Australian craft beers. So here is beer that shaped the Australian craft beer scene, Little Creatures Pale Ale. This pale ale is a heavily hopped pale ale, inspired by beers such as Sierra Nevada's pale ale.
I do actually drink alot of Australian beers, the reason many of them aren't reviewed is simply because many of them just don't stand out. For examply another West Australian brewery, Gage Roads, makes an English style IPA called Sleeping Giant which I intended to review last week, it wasn't terrible but was a bit bland. I have got a few Australian beers lined up to review though, so if you love Aussie craft beer stay tuned over the next couple of weeks.
Little Creatures Pale Ale pours a cloudy orange colour with a relatively small off-white head. The head has lots of medium sized bubbles throughout it, it also has quite poor retention and settles to a ring quite quickly. The little head there is does provide minimal lacing but more would have been nice. There is some sediment that can put some inexperienced craft beer drinkers off, don't worry about it! It's a really nice looking pale ale.
The nose is simply superb, very few beers (let alone Australian beers) smell as good as this Little Creatures Pale Ale. It has a sweet malt base which is clearly of some quality, but where this beer is a real star is the fruity hop aroma. Not only does there appear to be good bitterness there is also tropical fruits galore on the nose. Bananas, peaches, apricots and green apples are all present. There is also a honey like smell which draws the whole aroma together. It's simply stunning!
What a fantastic beer! It's technically a brilliant American Pale Ale. The taste starts off with the fruitiness that was present on the nose. The hops come next and are a slightly spicy floral hop variety, they provide excellent bitterness and help with the excellent dry finish. This makes a fantastic session beer as the mouthfeel is relatively light and leaves the drinker refreshed. It's a seriously good American Pale Ale, it's very hard to find faults with it.
In my opinion the best way to enjoy this beer is with food, and what better place to do that than the Little Creatures Brewhouse in Brunswick. The food has massive serving sizes and is delicious, the garlic aioli is amazing! There are American craft breweries who would kill to be able to make a pale ale that is this good. It's a simply world class pale ale, which is starting to gain a reputation overseas. If you haven't had this beer, you must have been living under a rock! Go out and buy some, you won't be disappointed!
Remember it's always Beer O'Clock somewhere in the world!