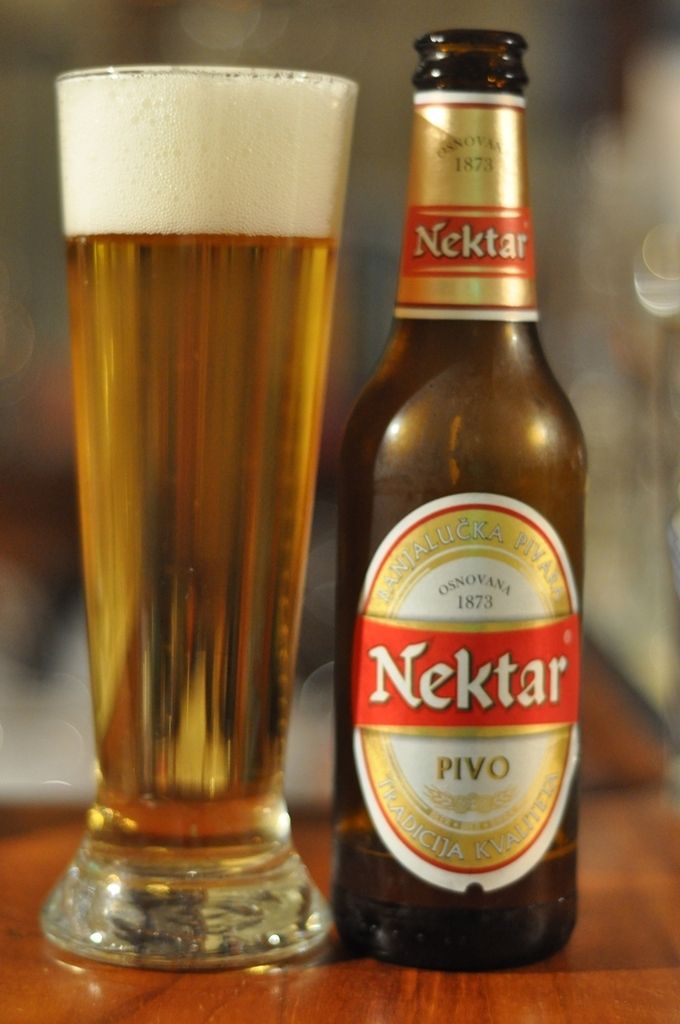 European Beer Challenge #38 Bosnia & Herzegovina
STATS
Country: Bosnia & Herzegovina
Style: German Pilsner
ABV: 5.0%
Serving Type: 330ml Bottle
Price: Inexpensive
It's been over 2 months since the last installment in the European Beer Challenge, so I'm always pretty excited when I find a new one. This particular bottle is part of a slab imported to Australia on a trial basis, and I was lucky enough to be in the beer store when it was delivered and managed to score a bottle!
Nektar is the first beer I've reviewed in a couple of weeks because I've been in hospital, so apologies for the lack of contact at least we are back with a bang though! I'm always impressed when one of the main beers of a country is a German Pilsner, it's a great style to drink in large quantities, if done well! Hopefully the Bosnian's have got this one right.
From popping the cap on this one until it's all gone you just have to be impressed by this beers appearance. It has a lovely golden colour with a large (3-4 finger) white head of tight little bubbles. There doesn't appear to be a heap of carbonation, but the retention of the head is magnificent and it also leaves a very impressive web of lacing. It's a highly impressive looking beer!
The nose on this beer is pretty faint, however what nose there is seems quite nice. The brewers haven't tried to make this beer anything it's not, it's got some nice bready malts, some crisp smelling grains and some relatively light grassy hops. It's got everything a pilsner should have and nothing that a pilsner shouldn't have on the nose, and that's more than good enough for me. Not a points gaining nose but certainly not a nose to drive people away.
Nektar is quite a nice German Pilsner, just the sort of beer I would like to drink at a BBQ in summer. It's flavour isn't dominated by one element in the way many macro lagers are, it's extremely well balanced. There is a bit of sour grains that hits the palate as well as some apple before the light grassy hops takeover. The hops provide a surprising ammount of bitterness for such a light flavour. The low carbonation and mouthfeel make this a really nice beer, possibly lacking in individuality, but definitely a well produced, very drinkable beer.
Bosnia & Herzegovina 's entry into the European Beer Challenge is a pretty decent beer. It's got really good drinkability and just leaves you wanting more. To the importer considering importing more of this please do! I'll buy more of it as a cheapish lager to have on hand. Until someone takes on the task of importing this, Bosnia seems like the only place to get it so if your over there give it a go, it's very serviceable and will grow on you the more you drink it.
Remember it's always Beer O'Clock somewhere in the world!