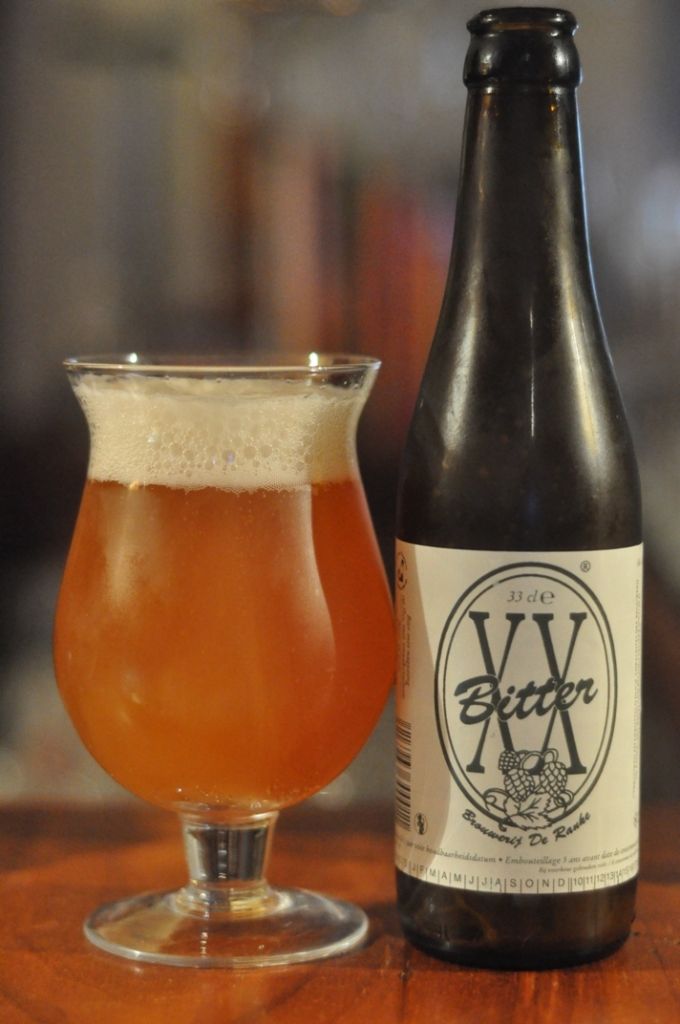 Et Cetebeer
STATS
Country: Belgium

Style:

Belgian IPA

ABV: 6.2%
Serving Type: 330ml Bottle
Price: Inexpensive
XX Bitter from De Ranke was one of the beers that really sparked my passion for Belgian beer. I came across this beer back in June 2011, when I was looking for a beer starting with the letter "X" for my alphabet challenge. I haven't had it since so I'm looking forward to it.
When I tasted this beer back then, before Beer O'Clock Australia was even in existence, I liked beer but didn't know all the ins and outs of various beer styles. Hopefully I wasn't wrong when I said this was a great beer! Being Belgian I imagine it should be fine. I can't stand this waiting any longer, let's try it!
The pour is a very cloudy orange colour, with a big head full of large bubbles. The head is an off-white to cream colour and has amazing retention. Literally the amount of head you can see in the picture still remained when all the beer was gone, the glass was also brilliantly laced by the end of drinking. It's a fantastic looking Belgian IPA!
De Ranke's XX Bitter has one of the nicest aroma's of any Belgian IPA I can recall, it's simply stunning! The nose has huge hits of spice, floral hops and citrus that although all strong work in perfect harmony. There's also a hint of cloves as the beer warms, which is not typical of IPA's but a nice Belgian twist on the style.
XX Bitter is often referred to as the beer that sparked the revival of Bitter beers (IPA's, sour ales etc.) in Belgium. When you taste it you can see why! It's a simply brilliant beer with plenty of floral hops. The texture of the beer is strangely oily, I imagine due to the hops. There's plenty of citrus, particularly grapefruit, as well as the cloves that I noted on the nose. The backend of the palate is full of spices, it's simply a sensory overload. It's one of the hardest beers that I've ever tried to describe!
This is the most unique Belgian IPA I have ever had. De Ranke's XX Bitter is the hoppiest Belgian-style IPA made outside the U.S. that I've ever had, however they don't overpower the other elements of the beer. The almost oily quality to the finish of the beer is an odd sensation but one that grows on you as the beer progresses. XX Bitter is definitely a beer that will find it's way back into my fridge soon. This is a beer for seasoned IPA drinkers only, anyone else will miss the intricacies of this beautiful Belgian IPA.
Remember it's always Beer O'Clock somewhere in the world!