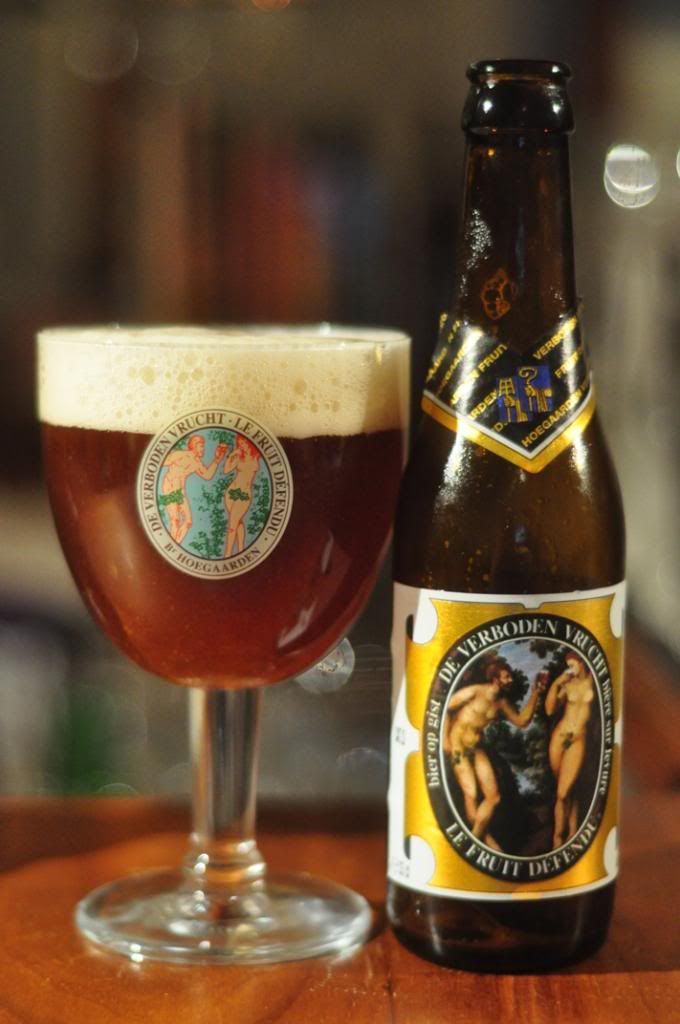 Et Cetebeer
STATS
Country: Belgium

Style:

Belgian Strong Dark Ale

ABV: 8.5%
Serving Type: 330ml Bottle
Price: Slightly Pricey
Firstly this evening I will apologize to all the people who have emailed me who I haven't got back to yet, I've been flat out for the last few weeks. I've seen that it's been noted that there's been a lack of reviews lately but I'm hoping to fix that over the next week or so.
Tonight's beer is a beer of many names; De Verboden Vrucht, Le Fruit Defendu and The Forbidden Fruit to name just a few. Although many may recognise it, very few know who brews it. The brewery is actually Hoegaarden, the same guys that brew the famous Witbier. It's a beer that I've heard lots of different things about so I'm looking forward to trying it.
One of the first things I noticed when I poured this beer is how light the beer glass was! For a heavy set looking glass it was incredibly light, anyway the actual beer poured a deep reddish brown colour with plenty of haze. The head on top was a bit darker than the picture shows, but a dark beige would be as dark a colour that could be attributed to it. It was quite well aerated at first but had excellent retention and moderate lacing.
Hoegaarden's Forbidden Fruit has an incredibly complex nose, so complex in fact that I think it is almost confusing. There is just so much going on from very ripe fruity aromas up front, through sweet caramel malts, some Belgian yeasts and even some alcohol. I mean there's probably 10 or 12 individual fruits that I can detect ranging from green apples all the way through plums and raisins. It's a real shock to the senses!
To say the flavour of this beer surprised me would be an understatement. It didn't quite match the intensity of flavour that the nose would have suggested. It was mostly sweet malts initially before some fruity flavours, but nowhere near as many as the nose would have suggested. There was also some nice typically Belgian yeast to accompany the slightest hint of extra alcohol. Still it was well balanced and for the style it was incredibly drinkable.
Considering how crazy the nose was I was shocked at how relatively mellow the actual flavour was. Don't get me wrong it was still beautifully balanced and had a great mouthfeel, but it was just less of an assault on the taste buds than I thought it would be. Hoegaarden Forbidden Fruit has all the characteristics of a top Belgian Ale, but for me it doesn't quite do enough. It's a lovely beer but there are definitely better ones out there. It's definitely worth a try though!
Remember it's always Beer O'Clock somewhere in the world!