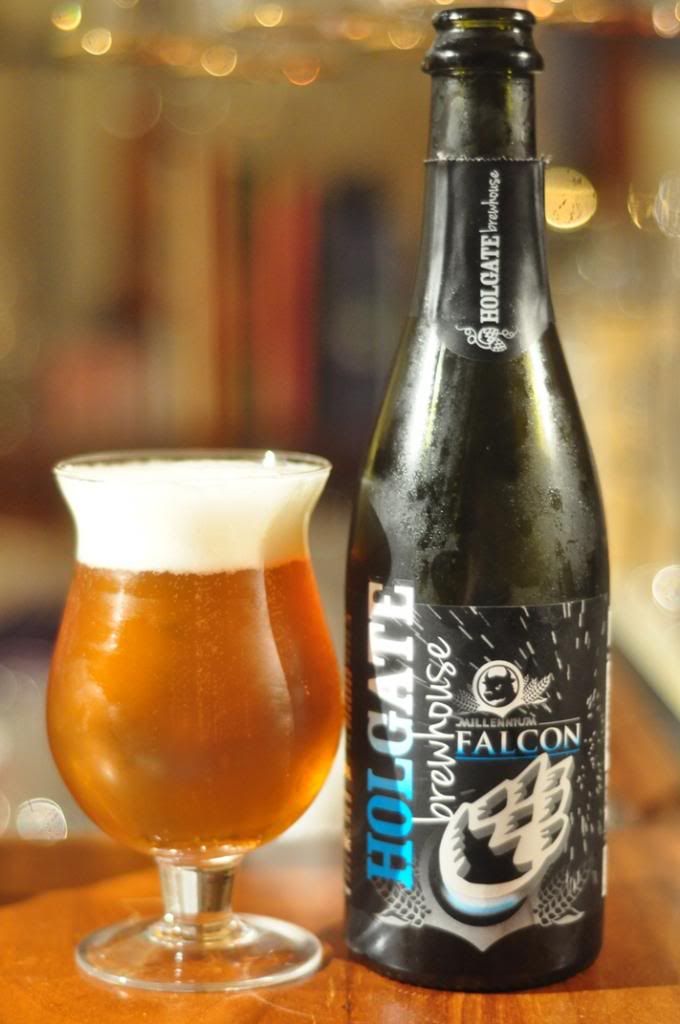 Et Cetebeer
STATS
Country: Australia

Style:

American Imperial IPA

ABV: 10.0%
Serving Type: 500ml Bottle
Price: Expensive
About 2 weeks ago Holgate released a plethora of hoppy beers (well only 2... but the sentence sounded good). Not only was there the much anticipated re-release of the new and improved Hopinator, itself a big announcement, but there was also this, the Millennium Falcon!
This monster is a 10% Imperial IPA with 100 IBU's and was launched as Holgate's 1000th brew, 14 years after their first back in 1999. It's a fantastic effort from the husband and wife team that started off in their shed, while managing to be in clear breach of as many copyright laws as I can think of with this beer! Before I taste it I'll leave you with the bottom of last line of the blurb: "Engage hopper-drive and let the hops be with you!"
So with hopper-drive engaged I poured this into a standard tulip glass and was not surprised by it's appearance. It's quite a light colour for an IPA, a lovely light golden colour with a good sized head of thick white foam. The head has excellent retention and laces the glass as well as any Australian IPA that I can remember! It's an awesome looking beer.
Holgate's Millennium Falcon certainly doesn't smell like a 100 IBU Imperial (or Emperial as the bottle would like it known) IPA. The nose is surprisingly understated and more malt driven than I was expecting. Obviously there are still plenty of hops on the nose with the Galaxy hops shining through, as they do in almost any beer they are in! There is some alcohol on the nose which is slightly unwarranted in my opinion but at 10% I'm not overly surprised.
Thankfully the hops are much more apparent in the flavour of the beer. The pale malt base is very light and provides just enough balance so this beer isn't unbearably hoppy. In saying that it is still very bitter with plenty of citrus and floral flavours coming from the hops. Millennium Falcon also has a thick mouthfeel which is almost "Chewwie" (get it?). It's a controlled hop bomb, that term will only make sense when you try it, it's one of the most interesting Australian craft beers for a while.
Before I proceed to my overall findings on this beer, which are probably pretty obvious now, I will share the further research that I found about this beer. It's hopped with Galaxy hops, but also with Millennium hops and Falconer's Flight. The name just becomes cleverer and cleverer! Anyway for all hop heads this is a must, ignore the price and just get yourself one; it's sensational!
Remember it's always Beer O'Clock somewhere in the world!