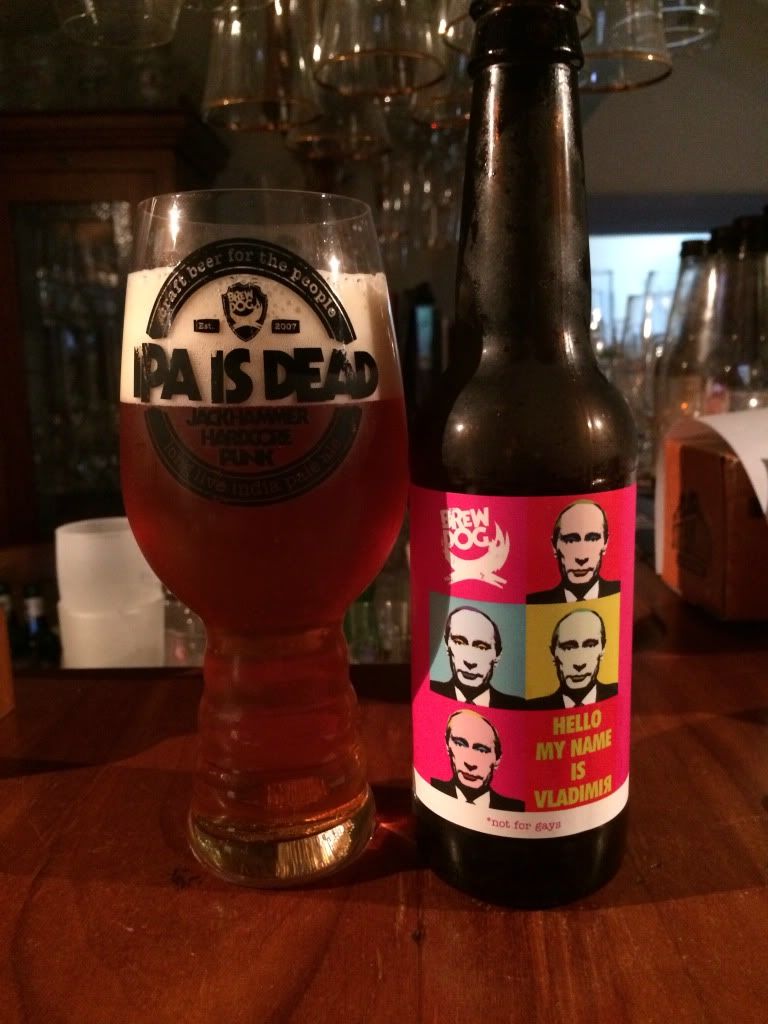 Et Cetebeer
STATS
Country: Scotland

Style:

American Imperial IPA

ABV: 8.2%
Serving Type: 330ml Bottle
Price: Slightly Pricey
BrewDog are known for their out their beers and even further out there marketing. Some people are a little upset with this beer, or at least the way it's been marketed. I though feel that BrewDog are raising the issue of discrimination in Russia, during the Sochi Winter Olympics as well might I add, in their own sarcastic way.
I'm linking the beer
launch page here,
you need to read this! It's sooo good (It was better but it's been censored)! This lot arrived fresh from BrewDog yesterday, and I did order it on launch day, so there's every chance this is the first time it's been drunk in Australia! Pretty cool! In the spirit of the beer I was watching the Olympics on the TV when I sampled this last week.
Hello My Name is Vladimir poured a nice medium amber/orange colour, with red flitting through when held up to the light. The beer has a nice 3 finger head of off white foam, which has good retention although leaves minimal lacing. It's a really nice looking beer and has one of my favourite labels to match! Normally I don't take the label into account when scoring a beers appearance, but in this case it's hard not to! Putin with lipstick is hard to go past!
Like the most BrewDog beers the aroma was hop driven with tropical fruit and citrus the most obvious characteristics. As the beer warmed (only a little though, it's seriously drinkable), maybe aired is more appropriate, the caramel malt body began to impress itself more on the drinkers nose while apricot and passionfruit flavours also became more pronounced.
The first thing that struck me about this beer when I took my first sip was how fruity it was! It was brimming with grapefruit, passionfruit, other generic citrus, mango etc. The malt base was light in flavour, but had enough body to sustain the beer. It was quite a bitter IPA and as the beer wore on I got a distinct berry flavour, which I'm going to assume was the limonnik berries mentioned on the bottle, which really added an extra dimension to the drinking experience.
For the ABV this beer is dangerous! You would have no idea that this beer is 8.2% when you're drinking it and the mixture of the delicious flavour, relatively low carbonation and great mouthfeel make it very very drinkable. If you like big Imperial IPA's, this is one you need to try. Remember 50% of the profits from this beer is going to charity BUT it's #notforgays.
Remember it's always Beer O'Clock somewhere in the world!