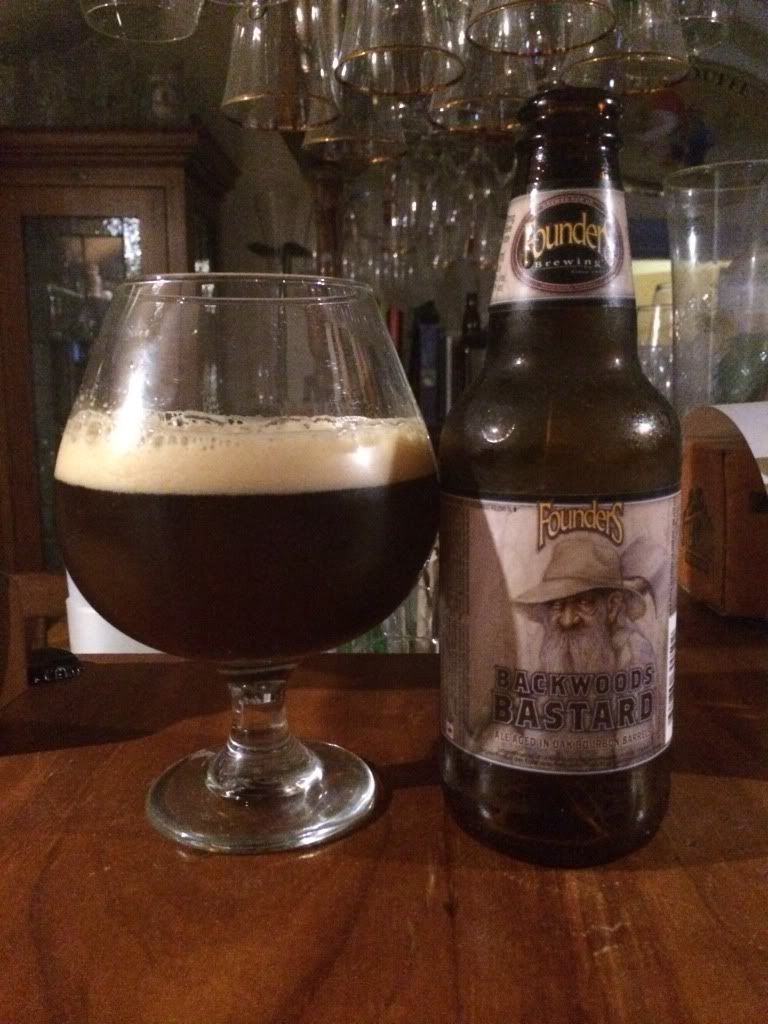 The Dark Side
STATS
Country: United States
Style: Scotch Ale
ABV: 10.2%
Serving Type: 355ml Bottle
Price: Slightly Pricey
I've been meaning to try, and subsequently review, this beer for months! I love Founders' stuff, from their All Day Session IPA (watch this space for a review) through to their Breakfast Stout. These guys really know how to make good beer!
Good Scotch Ales are often some of the best beers out there. They are often quite a sweet beer, with caramel malt flavours dominating over any roast characteristics. I've had 7 of the top 9 Scotch Ales on BeerAdvocate, and loved most of them - this is #1! To say I'm excited would be an understatement, let's do this!
The beer pours a dark murky brown colour with a surprisingly white head on top. The head is at least a finger and a half thick, which in this big snifter is impressive. However it is shortlived with only a ring of foam remaining after maybe 3 minutes. To me this isn't a particularly pretty looking beer - but I'm sure someone out there will appreciate it's appearance. (Secretly I'm hoping that the brewers deliberately made it ugly - Backwoods Bastard and all...)
Straight after pouring you could easily mistake this beer for a straight bourbon. There's plenty of raw alcohol up front along with lots of vanilla and oakieness. As the beer warms up it becomes more and more complex with plenty of caramel malts joining the party. I know the beer is clocking in at over 10% but all the raw alcohol is a little off putting.
I may have thought that Founders Backwoods Bastard was a bit unbalanced from the nose, but wow the flavour is amazing! It's got bourbon and caramel and vanilla and oak and even a nice hop finish. This beers got everything! With the ABV and the slightly sticky mouthfeel this is definitely a sipper. I'm really struggling for words to describe how good this beer is!
General Patton once said: "No bastard ever won a war by dying for his country. He won it by making the other bastard die for his country." Founders' Backwoods Bastard encapsulates the feeling behind this quote, it takes no prisoners. Every way you look at this beer it's big; flavour, ABV, body, packaging! It's an awesome beer, that I'm really struggling to describe adequately. In short buy the beer, it's awesome!
Remember it's always Beer O'Clock somewhere in the world!