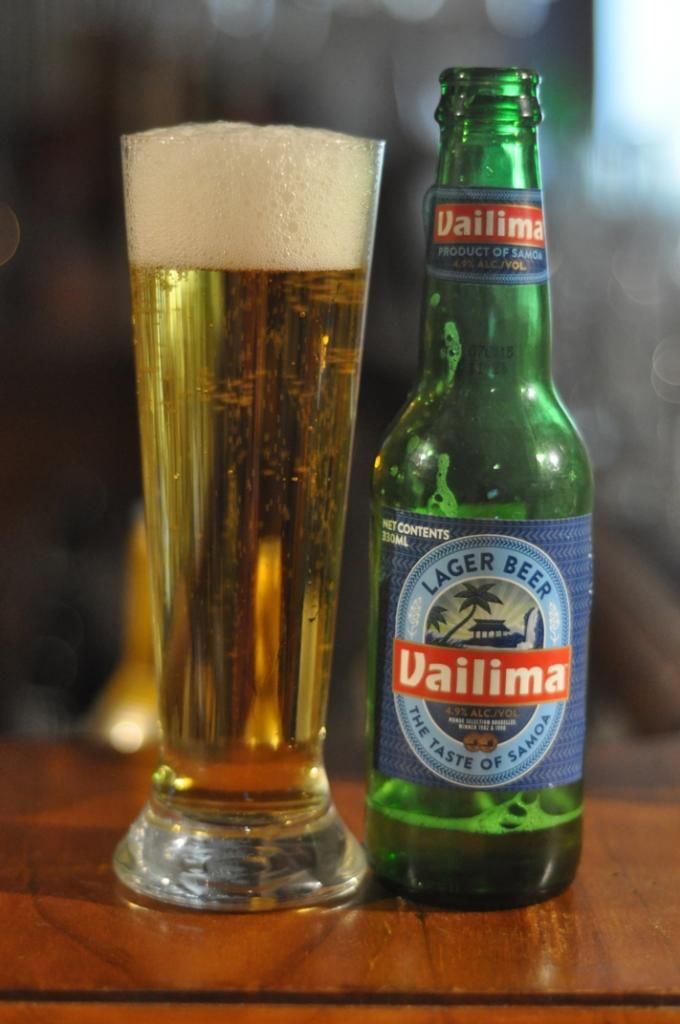 Macro Lager
STATS
Country: Samoa
Style: German Pilsner
ABV: 4.9%
Serving Type: 330ml Bottle
Price: Inexpensive
Another 2 months have passed and we have another new Macro Lager review, this time from Samoa. I've heard quite good things about this beer so I'm looking forward to trying it. But first a bit of history...
Samoa, I found out today, was actually under German rule at the beginning of the 20th century - maybe this has influenced their beer? It's a group of islands in the middle of the Pacific Ocean, about half way between Hawaii and New Zealand, with a population of around 200,000. Over 85,000hl of Vailima is produced annually, with very little for export, that's a big number for (relatively) so few people.
Vailima poured a pretty stock standard clear golden yellow colour. The white head that topped the body of the beer had a few medium sized bubbles right from pouring and then dissipated quite quickly. There was however a ring of foam left and some reasonable lacing to boot. It's actually a pretty good looking lager.
I was pleasantly surprised when I smelt this beer for the first time after pouring - it didn't smell of sweet grain! There were hops! These hops weren't hugely strong but had nice grassy and floral characteristics on the nose. It seems like there is quite a sizable biscuity malt base. Vailima is a crisp smelling pilsner.
The taste of Samoa's national beer wasn't quite as good as the nose - but was still a lot better than many other macro lagers I've sampled. It was a crisp lager with a nice light bitter grain base. The hops were certainly not pronounced but were there - with grassiness and a bit of spiciness coming through and providing just enough bitterness. It's nothing particularly special but it is a real pilsner!
Samoa, or the Pacific Islands in general, are not places that you would normally associate with brewing good beers. Vailima is surprisingly a good example of a German Pilsner! It's definitely the best of the, in fairness not so many, Pacific Island nations' mass produced lagers. If you're in Samoa or you're a lager fan and see this one around I would recommend giving it a go.
Remember it's always Beer O'Clock somewhere in the world!