Out of Office
STATS
Location: Yarra Glen, VIC

Tasting Paddle:

YES

Food: YES
Branded Glassware: NO
Merchandise: NO
Last Sunday Lizzie and I went on a bit of a drive and visited a couple of breweries in Melbourne's North. The first of which was Hargreaves Hill, a brewery whose beers I've enjoyed on the odd occasions I've had them. We decided on Saturday we'd head up this way and have a few beers and some lunch, called up, booked a table and then set off to Yarra Glen on Sunday morning.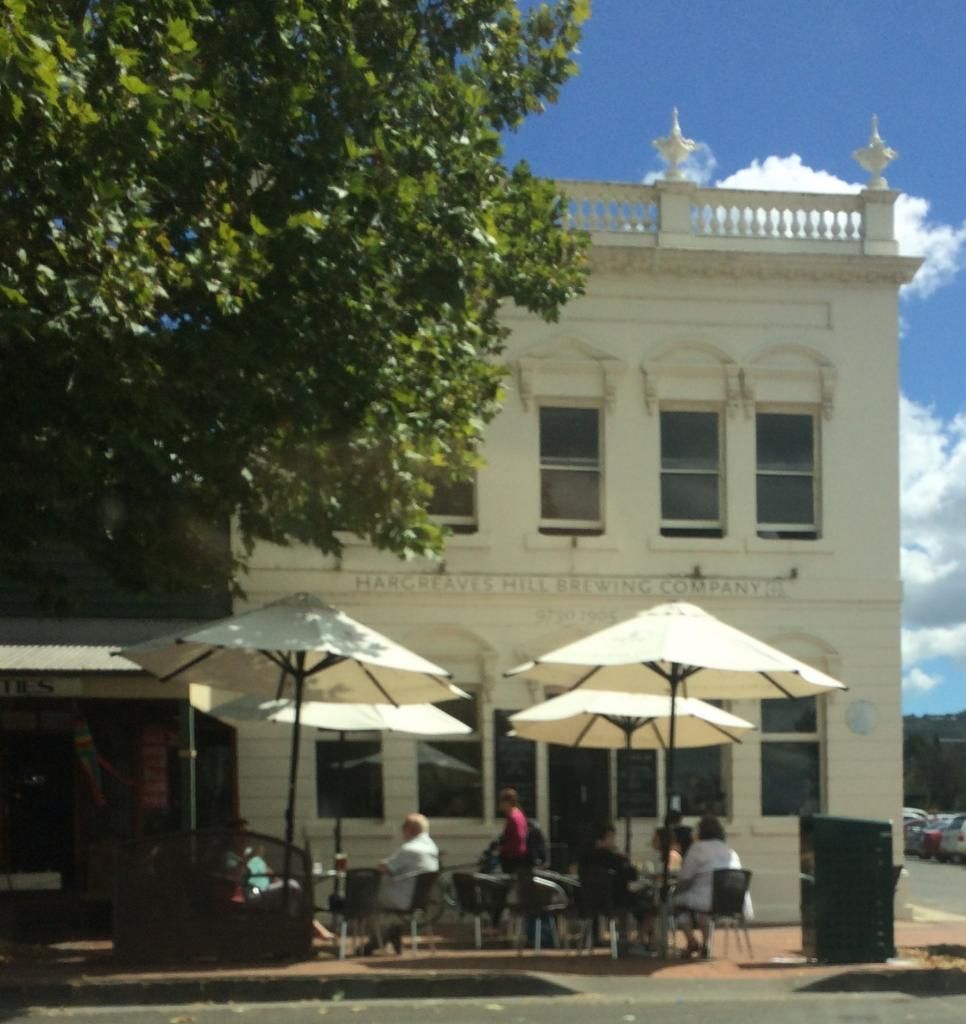 Sorry for the iPhone photo
out of the moving car...
Yarra Glen is about 50 minutes North East of Melbourne. It was pretty much bang on midday when we arrived at this picturesque little town and located the nice white building that the brewery is located in. All good so far.
We walked in, they've got no record of our booking. Fair enough, these thing happen. The staff sort of stood there, quite standoffishly, didn't offer us another table - we had to ask. When we did ask, the girl audibly groaned and then asked another staff member to "deal with us". To say it was a bad first impression would be an understatement...
Anyway, we put that aside and were seated in the quite small main dining room by a nice Italian waitress. She ran through the food specials, almost forgetting to mention the drinks menu - something that seems odd for a somewhere marketing itself as a brewery!
After a bit of cajoling we finally got where we wanted to go. I ordered myself the standard tasting paddle, which is remarkably good value $8 for reasonable serves of their 6 core beers. It starts with their Hefeweizen, a very good Australian example of the style packed with banana and cloves. This beer almost made up for the poor service we'd received up to this point.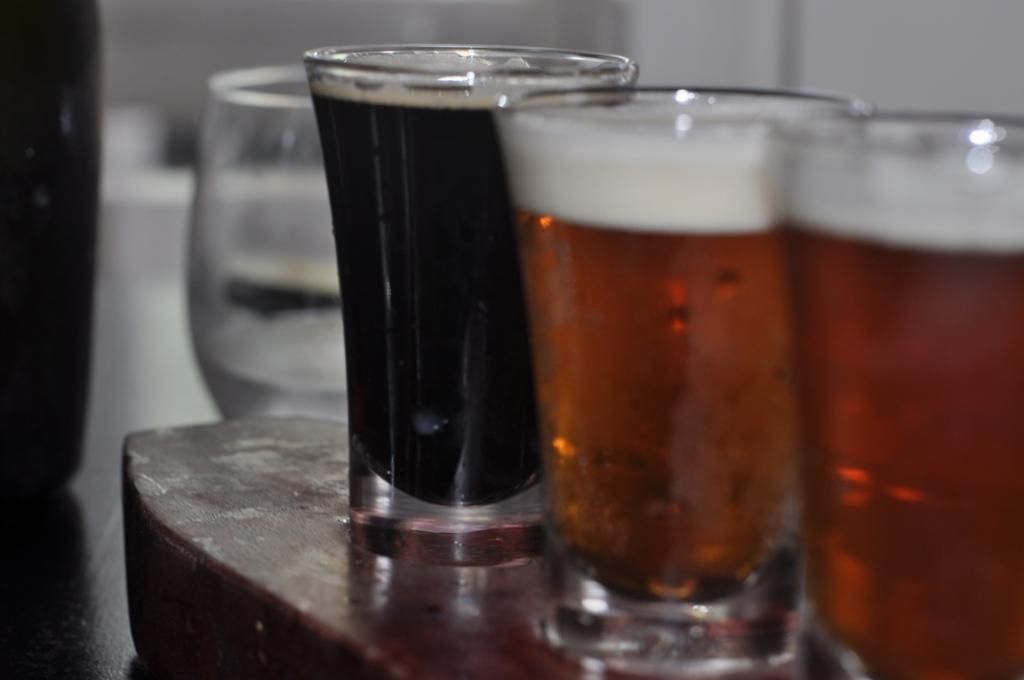 Beer #2 on the paddle was their Pilsner, which was remarkably forgettable. It ticked the lager box, but didn't have enough hops or crispness to tick the Pilsner box for me. The Pale Ale was third and brought me back to the good beers. It had great floral and citrus hops that provided adequate bitterness.
Hargreaves Hill's fourth beer on their paddle was one I hadn't had before; their AD. It's a take on a Belgian Dubbel and is actually a pretty good example of the style. There was lots of caramel notes and the Belgian yeast they've used was quite unique but worked really well!
ESB was next up and was the stand out beer of the 6 on the paddle. ESB's normally aren't my thing but the Hargreaves Hill hoppy version really stands out for me. True to traditions there's still plenty of malts, which provide caramel and biscuity flavours. The hops are earthy and floral at first before quite strong citrus flavours come through. This is my favourite beer they produce.
Last but certainly not least on the paddle was the Stout. It's quite a chocolatey stout with plenty of nuttiness there as well. It's got a great creamy mouthfeel and is one of their better beers. I still had some food left so finished off with a Zenith IPA, a previous Bear Club beer, which is a brilliant IPA and the sort of thing the Hargreaves Hill core range is missing.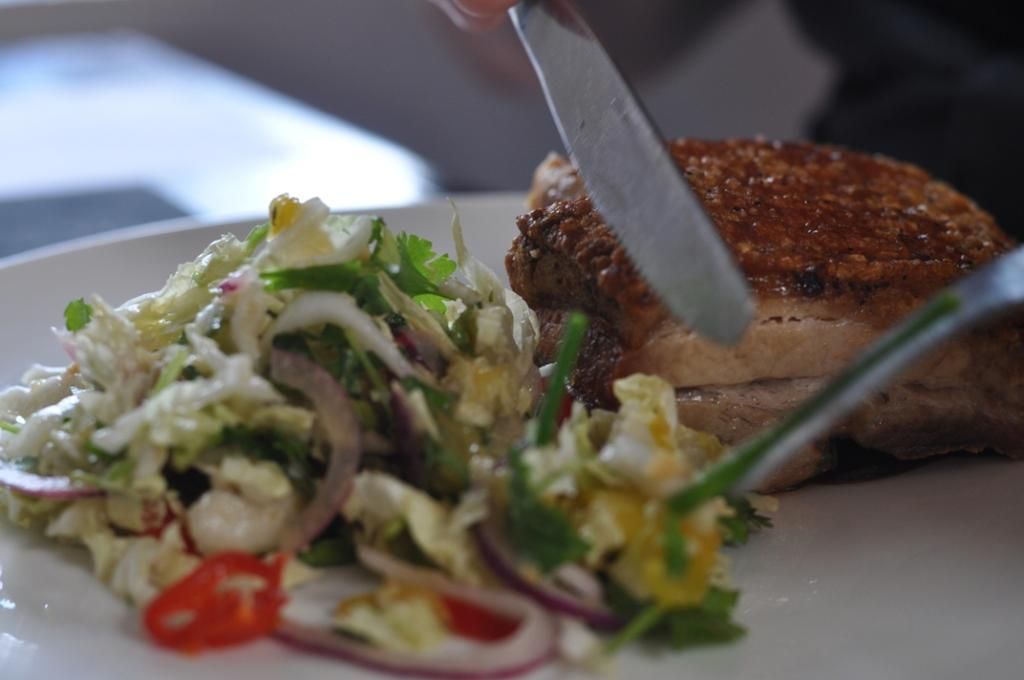 The pork belly was perfectly cooked!
With the restaurant vibe this place was delivering, we were expecting really good food. Thankfully we got it! The arancini ball was excellent as was my pork belly - who can turn down pork belly and beer? Seriously it's the best combination out there! The salad had mangoes and chili in it, another great combo!
From a beer perspective, the Hargreaves Hill Brewing Co. is a great spot. The food was also excellent. From an atmosphere point it's definitely more like a restaurant than a brewery. The little beer garden out the back seemed more like your average micro brewery, but it was along way from the taps, while the tables out front seem more suited to a cafe.
Maybe the staff member we first met was just having a bad day? I can accept that. Lack of recording of our booking? Shit happens. General rudeness? Is not really acceptable. It put a dampener on what could have otherwise been a good visit. The lack of visible brewhouse is a bit of a downer, but if you feel like lunch and a few beers north of Melbourne you could do worse than pop in to Hargreaves Hill. If you, like many people, are averse to rudeness, maybe stick to buying their beers by the bottle -they make some good beers, but some of the staff on last Sunday were a bit off... Not all I hasten to add, the Italian girl and the guy we dealt with at the end were both great!
Remember it's always Beer O'Clock somewhere in the world!