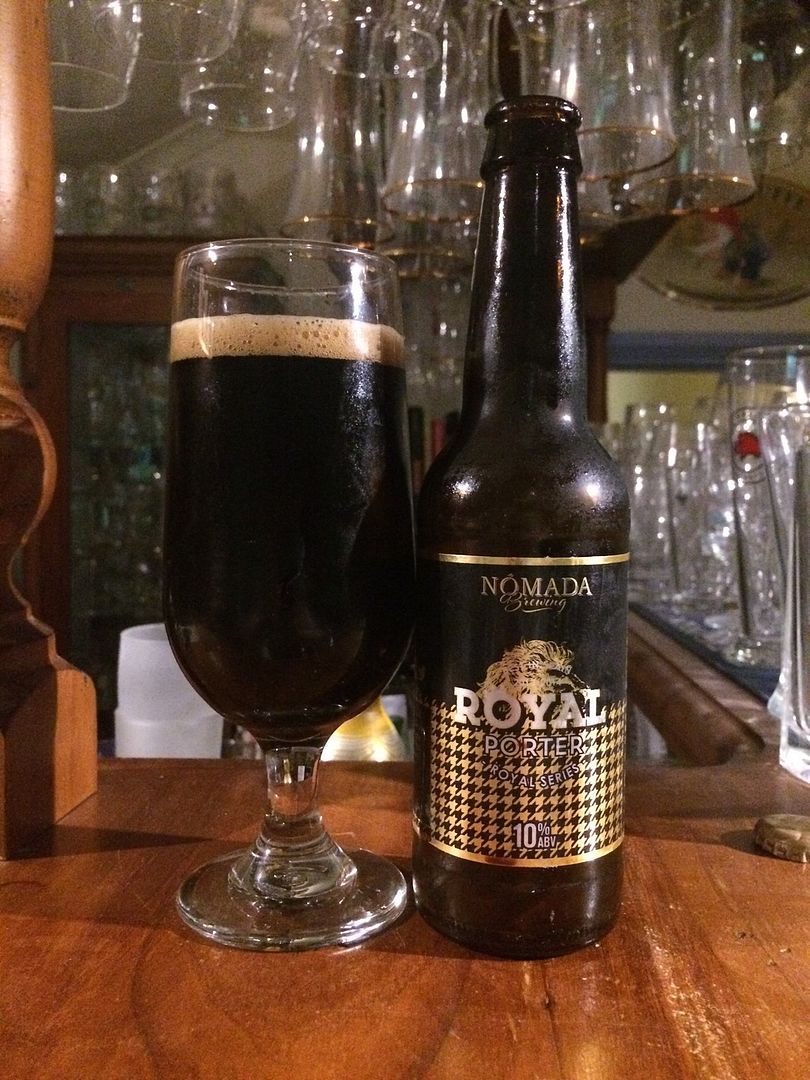 The Dark Side
STATS
Country: Spain
Style: American Porter
ABV: 10.0%
Serving Type: 330ml Bottle
Price: Slightly Pricey
Spanish beer has always underwhelmed me. With that in mind I approached with trepidation upon hearing that their most well known microbrewery, Nomada, was coming to Australia.
After having the very interesting Estepa around Christmas time, my expectations for this were greatly increased! Nomada's Royal Porter is viewed by many as Spain's best beer. Now that Winter is slowly beginning to take hold of Melbourne, it seemed the perfect time to crack into this and see if the hype is justified.
The pour is as close to pitch black as I've ever seen in a Porter. There's no translucency what so ever, even at the top of the stem of the glass. After the body of the beer, the head is a real disappointment; with barely a finger of khaki foam topping the beer. It's got quite large bubbles considering the small head and fades to barely a ring of foam around the edge of the glass after the first few sips. (Apologies for the iPhone photo, this badge was quite unexpected - and the label almost impossible to photograph!)
Onto the nose and there is plenty of roast and chocolate up front. This continues throughout, as the beer warms it also developes some dark chocolate aromas as well as some woodiness. I also detect a whiff of raw alcohol, which doesn't destroy the aroma as the rest of it is so strong, but does impact my overall feelings of the beer.
Nomada Royal Porter is wonderfully chocolatey up front, yet strangely isn't cloyingly sweet; it's barely sweet at all! There's enough roast, some caramel and even a hint of hops that manage to balance everything. This beer is particularly hard to describe! I'll leave you with this; it's chocolately yet not sweet, it's dry but still has an oily texture and it's delicious! Trust me you have to try it to understand what I've just said...
I have to say that this beer surpassed my expectations. It's a very nice American (Imperial?) Porter, It's an extremely drinkable beer for 10% ABV! I wouldn't advise having many of these though, it did knock me around a bit. If you are looking for good Spanish craft beer I would look no further than Nomada, the two beers I've had from these guys have both been very good. You'll be hearing more about this beer soon guys...
Remember it's always Beer O'Clock somewhere in the world!