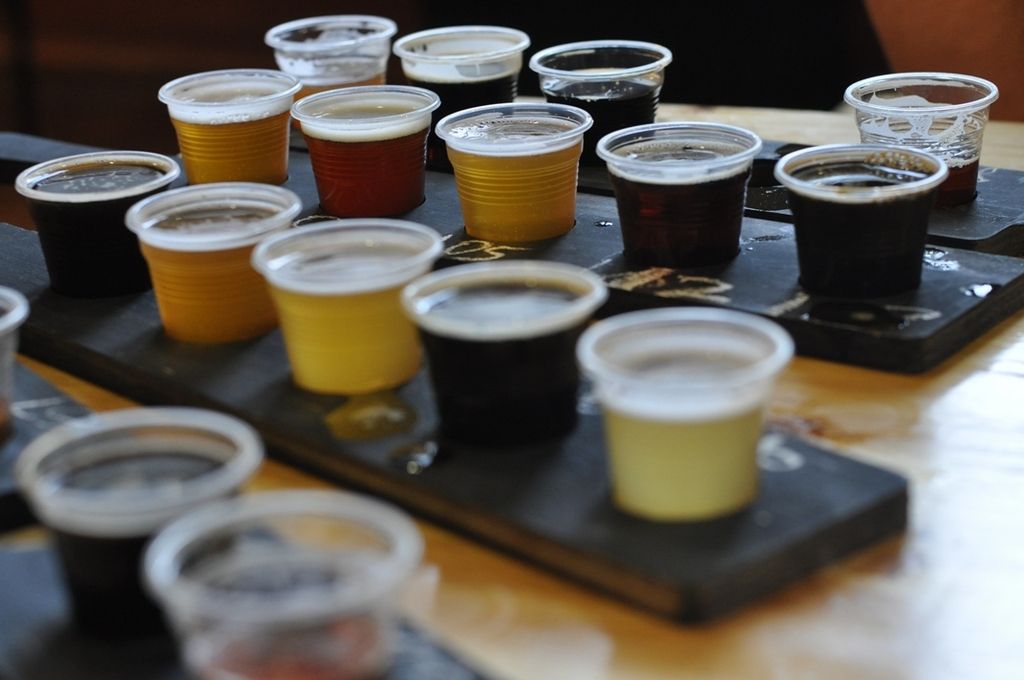 GABS ROUNDUP
Here's my roundup, mostly off iPhone and Untappd notes, of this year's GABS beers. I thought on the whole that this years offerings were of a higher quality than previous years.
I have to give thanks to Lizzie for the photo's dotted throughout this review. And I'm also going to combined the GABS Untappd Catchup in here as well (not sure how yet...) but let me know your thoughts via the usual routes.
Section 1
- The line at Container B when I walked into GABS at 12:10 on Friday encouraged me to start at Section 1 this year. Two of the beers that I thought would be excellent really delivered, while the 4 Pines and Bentspoke offerings were both a little underwhelming. The 8 Wired beer was excellent and one I was very happy I got to try despite neglecting when selecting my beers. 3.875
4 Pines Snickers
- Having been impressed with their recent Keller Door releases this was a bit of a let down. It was an easy drinking Brown Ale but was lacking in flavour.
7 Cent Beer is so Over
- Interesting ingredients, all the hipster things you can think of; kale, goji berries, quinoa - the list goes on. It was a brilliant red colour and lightly tart. It also earned the Fruits of Your Labour badge on Untappd.
Akasha Fire Within
- This beer absolutely lived up to what I was hoping it would be. It was what I've always imagined a Riverside 444 would be. Brilliant balance of hops and malt.
Bacchus Atomic Lemon, Lime & Bitters -
Absolutely nailed the concept! This beer was packed full of Lactobacillus with blood orange and bitters both prominent flavours.
Bentspoke Black 'n Sour
- This wasn't black enough or sour enough for my liking. It was lightly smokey and a bit odd. Not awe inspiring from these guys from the A.C.T.
8 Wired Hippy Berliner -
Lizzie was so impressed with this one that she said I had to try it, she wasn't wrong! This really was an excellent Berliner Weiss! It also earned Pucker Up (Level 17).
Section 2
- Section 2 was a really interesting one. All 6 beers I sampled were very different with BrewCult's Milk and Two Sugars, an Imperial Milk Stout laced with coffee, the clear standout. I was also very impressed with the Dennis offering, while the Doc was a little down on his usual lofty standards (possibly due to my expectations) but still produced a lovely palate cleansing sour!
BrewCult Milk and Two Sugars
- Hendo's creation was served to me instead of the Boatrocker Gose. It's packed full of coffee and a deserved winner of the People's Choice award. Don't worry guys there's a full review to follow.
Bright Lord Helmet Schwartz
- Really interesting Schwarzbier with licorice as the secret ingredient. Doesn't sound good but it certainly worked!
Byron Bay Hefen & Hell
- Good execution of the style. There was plenty of hype from the people sitting around us about this. It didn't quite live up to the name though.
Cheeky Monkey Death Dancer -
This was wonderful, albeit lacking in a little rye. There was good roast characteristics as well as plenty of pine and some Belgian yeast.
Doctor's Orders Serum
- I had such high expectations of this beer that I was bound to be a little let down. It wasn't as sour as I'd hoped it would be, but it was particularly refreshing.
Dennis Fat Freddy Got Finger-Limed -
Another of Lizzie's; albeit that I tried it for a different reason - she hated this one! It was puckeringly sour with plenty of citrus.
These taco's didn't look good, but were delicious!
Section 3
- I took a bit of a punt on the Indian Ocean beer because it was an Altbier. It was poor and really let this section down. Definitely a section, for me anyway, packed full of darker stuff and I really enjoyed them all. I'd like to have the Belgian Strong Dark from Fortitude again, I think after a year or so mellowing it could be really good.
Ekim [ragna]ROK
- I was expecting this to be good but not this good. This was a brilliantly balanced Imperial IPA along the lines of 777. I hope this gets released post-GABS.
Fortitude Noisy Minor Opium
- Belgian Strong Dark Ales are often dominated by dark fruits and spices, however this example was ruined by too much spice.
Green Beacon Cherry Oak Stout
- Absolutely wonderful! The sour cherries in this beer were an absolute winner!
Homestead Velvet -
Going into GABS I thought this would be better than it's predecessor, however it paled into insignificance behind the Green Beacon offering. Still a good beer though.
Indian Ocean Mumme
- I don't recall having a beer from Indian Ocean before, and I think this may be my last. This was a very poor Altbier. Too smokey, not crisp. It just didn't work for me.
Funk Estate Afrogato -
Another of Lizzie's - this was brilliant! It was a creamy, roasty Imperial Stout which showed very little of the 8.5% ABV.
Section 4
- For me Section 4 was the pick of the bunch. There are 4 beers in the 7 I sampled here that I would actively seek out again, namely; Kaiju's, MoonDog's, Mountain Goat's and Moa's beers. I don't think there can be higher praise of a GABS beer, something that is experimental that has clearly worked! On my Untappd ratings however, it was actually the second highest rating section...
Kaiju Betelgeuse
- I didn't expect anything less from Kaiju! This was an excellent hoppy Amber Ale that drank dangerously well for 10% ABV.
Liberty Inde Saison Pale
- A late decision as replacement for the La Sirene Bebe Rouge, which was gone by 2pm... It was a nice hoppy Saison, although nothing particularly special.
MoonDog Spotted Dick with Custard
- MoonDog are particularly hit or miss, more so than any other brewery I can think of. This Barleywine was absolutely a hit! It was sensational with toffee, raisins and vanilla all notable. It also unlocked the Wine of Beers badge for drinking Barleywines.
Mornington 2 Dogs -
I can't quite believe I'm saying this about a Mornington beer but this was a bit of a let down. It was slightly smokey and slightly hammy, didn't quite work for me.
Mountain Goat Night Cap
- Brilliant! Reminiscent of Ramjet, although not quite at that level. Plenty of whiskey and coffee. I really hope these guys bottle this!
Membrillo Hefeweizen -
The Home Brew Champions beer. I thought it was a really nice introductory Hefeweizen. This guy (and a few others) has just launched his commercial brand, Pact Brewing, so keep an eye out. Heffenista (Level 6) was unlocked by checking this beer in.
Moa Feijoa -
Moa's effort was sensational! I had to try this after the 8 Wired Feijoa Sour, which you can find a
full review of here
. This was even better! I think I want to try a Feijoa now.
Section 5
- Interestingly section 5 was the highest rated according to my Untappd ratings. Two Black IPA's probably helped, I do love them! Murray's Brutus was excellent as expected and Panhead's Bourbon Old Fashioned, tasted exactly like a Bourbon Old Fashioned! However I don't think I'd actively seek out many of these again.
Murray's Brutus
- This was the point in the day when Lizzie and I could resist temptation no longer and had to stop in at the Milk the Cow store - god the cheese plate went well with this beer. It's excellent and the 16% ABV is brilliantly hidden.
Nomad Massive Foo Fighter
- I loved the amount of hops in this Black IPA, worked really well with the coffee and roast flavours. These guys are going to be big players in the Aussie craft beer scene very soon...
Panhead Bourbon Old Fashioned
- Nailed the beer version of the Bourbon Old Fashioned! I couldn't fault this at all, it was brilliant! Drink Like A Kiwi (Level 19) was earned by this check-in.
Pirate Life Barbe Noire -
Pirate Life delivered an excellent beer to back up the hype around them. This was a big Belgian Black IPA, which I really enjoyed. It also unlocked Sky's the Limit (Level 9) - for drinking beers above 10% ABV.
Riverside Hop Hefner
- Hop Hefner wasn't as good as I was hoping, however Riverside still delivered a nice citrus heavy Hefeweizen which was very drinkable.
Pixel Salted Caramel Chocolate Tart -
Tasted exactly like salted caramel!
Section 6
- This was the weakest section by far in my eyes. The one shining light was the Yeastie Boys Not Kettle Black, which was beautifully crafted beer. The Stomping Ground Inception Lager was a very promising sign of things to come, with a brewery and beer garden to open in Collingwood later this year. The others I sampled were a little middling.
Six String Mor Lam
- This delivered a really interesting flavour, dominated by lemongrass. It certainly isn't going to appeal to most but I quite liked it.
Southern Bay Wolfgang Chang
- Normally I love Dunkelweizen's however this was very poor! There was far far too much Chinese 5 Spice and it completely ruined it for me.
Stomping Ground Inception
- Couldn't ask for a nicer start from the guys. This was a very clean. citrus heavy lager. Lager Jack (Level 41) was unlocked by this beer.
Vale Pie Cart -
I got the ham that I was expecting, but unfortunately not the split pea I was hoping for. It was slightly smokey though, and actually work quite well. Another beer to unlock an Untappd badge, this time Heavyweight (Level 31).
Van Dieman One Night in a Black Tent
- This could've been better balanced. Was heavy on wood flavours and raw alcohol. There was also so nice truffle
Two Birds Pina Colada -
Two Birds often deliver with the GABS offerings; this was lacking the coconut that would've made it a Pina Colada, but it was a nice pineapple-y IPA.
Yeastie Boys Not Kettle Black -
What a wonderful accident this was! A batch of their normal Black IPA - Pot Kettle Black got infected years ago, they kept some, some ended up in Pinot Noir barrels and GABS 2015 was treated to the result. Lots of red wine and roast characteristics.
There we have it guys, my Great Australasian Beer SpecTAPular 2015 review is finally up! It's a bit of a monster so hopefully you stick through it and get to here. If you guys want to try some of these there are kegs floating around some of Melbourne's best craft beer bars as well as the Tru Bru pack available nationwide through Dan Murphy's. This is a really interesting collection of beers so everyone should find something they like. Let me know your GABS thoughts, hopefully I'll get some more Good Beer Week stuff up this week. Until next time...
Remember it's always Beer O'Clock somewhere in the world!