Out of Office
STATS
Location: Wagga Wagga, NSW
Tasting Paddle: YES
Food: YES
Branded Glassware: NO
Merchandise: YES
It's very belated but I was determined to get this Out of Offiice review up eventually! I was on the way to Byron Bay for a work meeting and we left after work one day planning to stop at Thirsty Crow in Wagga Wagga for dinner. I think I speak for both of us when I say I'm glad we did - it was a seriously good spot!
Driving into Wagga Wagga I wasn't sure what to expect. The brewery is house in a huge converted warehouse, and I'd guess there would be seating for somewhere in the 150-200 people range. The brewery itself is on full display and there are signs posted around the place with the brew schedule and that people are welcome to come along and watch.
The bar was packed with a wide variety of people, a few older guys who were clearly regulars, a couple of groups of workmates, a family celebrating a birthday and a few couples dotted around. The atmosphere inside was really friendly and inviting with music playing, but clearly in the background to chatter and laughter. I approached the bar ordered my tasting paddle and took a food menu to the table.
So while perusing said menu I got stuck into my first beer; the Sporting Ale. It was a light spritzy ale, similar to a Kolsch. I quite enjoyed it. I followed it up with their Light Red Ale, a mid-strength at 2.9%, but packing the flavour punch of a much larger beer with great Galaxy hop flavours.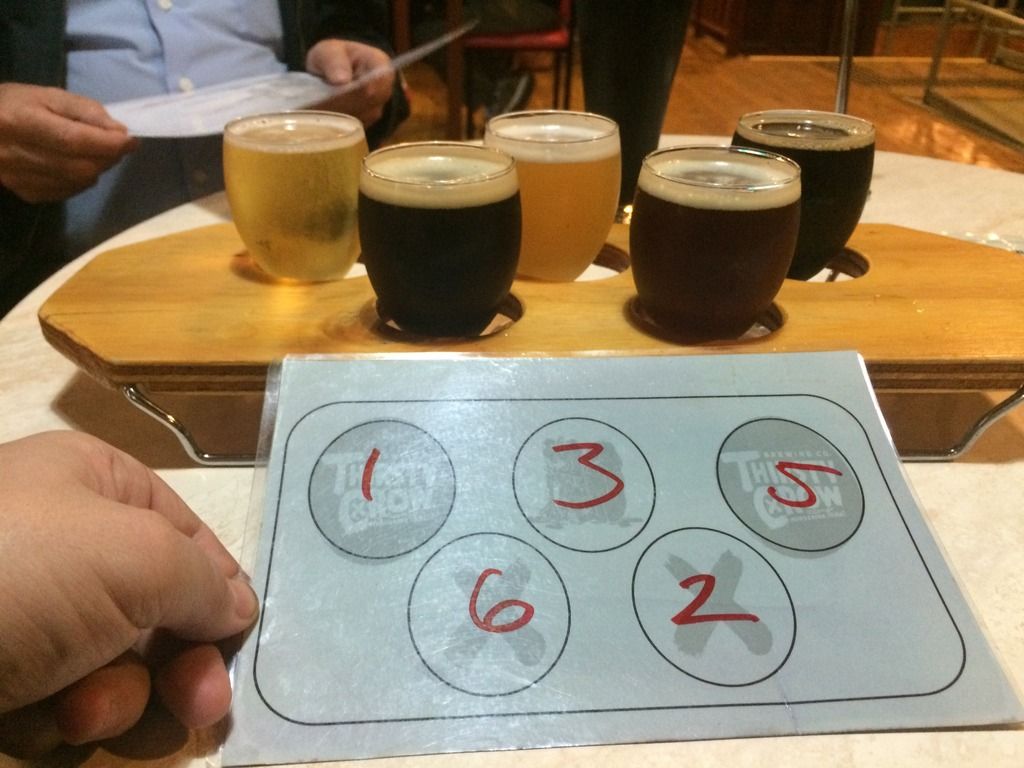 Next up was the 26-Fifty Summer Ale, it was a really solid Aussie Pale Ale, along the Stone & Wood Pacific Ale lines although a little lest refined. The Dark Alleyway IPA, a black IPA, was also a high quality brew, which I thought had roast and hops in abundance.
The last beer on my paddle was actually the reason we ventured up to Wagga Wagga; the Vanilla Milk Stout. It really is a truly world class beer, produced in regional New South Wales. The sweetness is just beautiful - it's a stout I could drink over and over again! My first venture outside the panel was to visit the Vienna Lager, in anticipation of my upcoming trip. I must say I was impressed, it retained the lager crispness while still being nice and malty.
Naturally I had to try a few more schooners of the Vanilla Milk Stout, it's left this indelible impression on me ever since the first one I had. It's a beautiful sweet stout that really is a leader in the Australian market. For those of you yet to try it, hunt it down; Fitzroy's Rainbow Hotel get it on from time to time...
The food was on the whole excellent, if a tad eclectic! The pizza with with mushroom, bacon, truffle oil and chevre was out of this world good, while I find it very hard to turn down a corn dog. The only let down where it came to the food was the dumplings, which were a little cold and not that flavoursome. Some points were awarded there for serving them with vinegar, but they didn't quite live up to the other two dishes.
Like most breweries, Thirsty Crow had a few of their wares on offering to take home in stubbie form. They were disappointingly out of my favourite beer of theirs, the Vanilla Milk Stout... However, thankfully, all was not lost as they are one of a growing number of venues to do take away growlers and squealers. I think I may have already reviewed this beer, but if I haven't trust me it's brilliant! Thee Thirsty Crow squealer I now own almost, repeat ALMOST, made up for the lack of branded glassware.
So guys, that's a wrap. As you can probably tell by the tone of my review I really enjoyed visiting Thirsty Crow. Make sure next time you're up in Wagga Wagga you pop in. The staff are friendly, the atmosphere is great, the food is good and most importantly so is the beer! I'd say that this is one of my more memorable microbrewery visits and now I'm needing an excuse to get up to Wagga Wagga to visit again!
Remember it's always Beer O'Clock somewhere in the world!