Beer O'Clock on Tour
A very long, hot bus trip later we arrived at the villa we would be staying at for the best part of the next week in the hills behind Saint Paul-de-Vence. I felt comfortable that I had enough beer to last the week, but with the nearest craft beer store a couple of hours drive away, slightly nervous... My nerves were eased somewhat when I saw the pool, thinking that the pool could cool me down not just beer. That was before I worked out that pools with views of the TV were great places to drink...
Being American Independence Day I had to have an American beer to start. The only one I had was not particularly weather appropriate though; Dark Horse Reserve Special Black Ale. It was a nice roasty porter, but I needed something lighter... This is where Get Radical's Feathers of Angels came in. Sitting in that grey area between American Pale Ale and IPA - it was light and full of tropical fruit flavours. It was an impressive beer.
The first beer that I had in the pool was an absolute stunner! Oude Geuze Boon A L'anciene Vat 77. This is a beer for true sour lovers, with big oak and citrus flavours pairing nicely with at times extreme tartness. There's plenty of Brett there for true sour fans. I would not suggest this one to anyone new to sours, it will be lost on you.
My first Swiss beer for a very long time arrived after a quiet morning the next day recovering from the trip the day before. La Salamandre was a Saison which was very drinkable. It had excellent floral, citrus and yeast characteristics. Brasserie PBC's Mine de Rien is an American Pale Ale brewed with pine twigs (if my French is correct). It was lightly piney, so it may well be, and was nice enough. It was also the first beer I've had to add on Untappd for ages...
Falsbourg was a perfectly acceptable lager, for 40 Euro cents! It was drinkable and bought purely because I had to buy a beer that cheap. My first experience with a Biere de la Plaine (the only craft brewery in Marseile) was not a particularly good one. The IPA, poured a very murky, unappealing brown colour and was not that hoppy - worrying considering I have two more of their beers to come...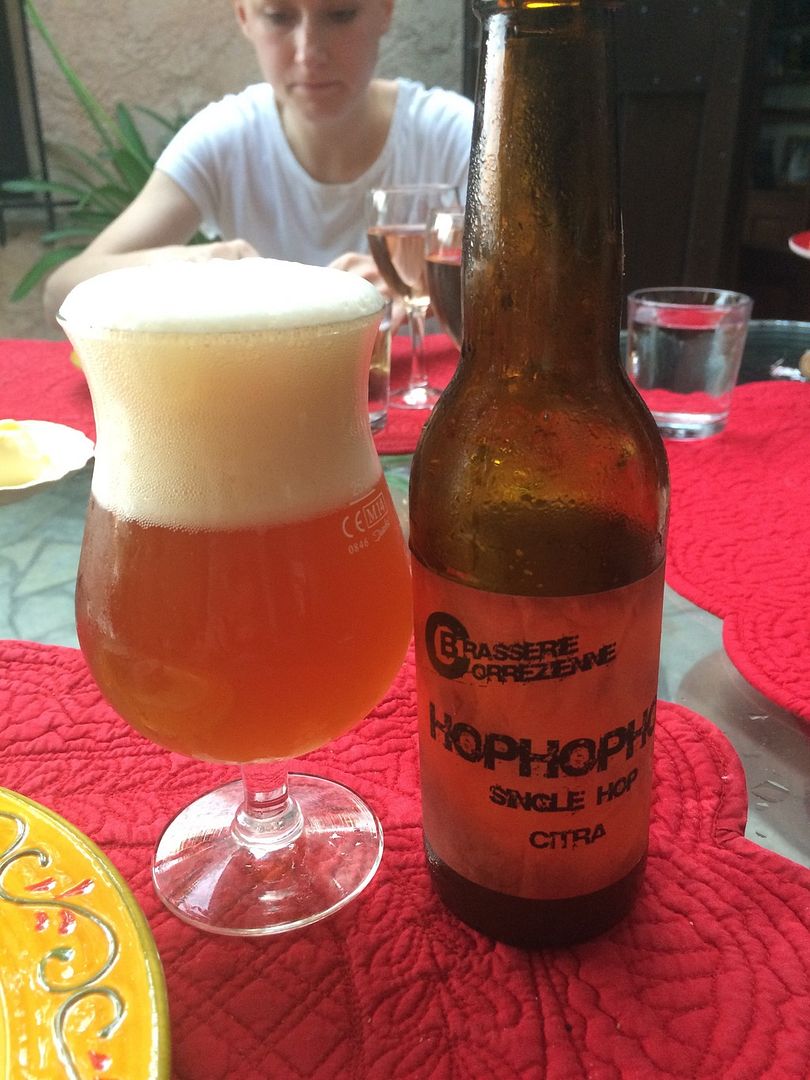 My second beer from Get Radical was their Mars Needs Women. It's a refermented version of their Train to Mars Saison, which had honey and brettanomyces added and was then left in oak barrels for 7 months. It tasted as you'd expect, with plenty of honey sweetness, some floral and citrus characteristics and finally some sourness. It could have easily had more sourness, but I quite liked the level it was at.
It's quite rare for me to get my hand on some German craft beer so when I saw Hopf White I jumped all over it. It was still a very German style, being a Hefeweizen, and I very much enjoyed it. Deck & Donohue's Mission Pale Ale was the first beer the next day after Lizzie's Birthday lunch. It wasn't a particularly distinguished Pale Ale but got the job done. Whilst the Brasserie de la Goutte d'Or La Chapelle - a Chai infused Pale Ale was appaling! Sort of a mix between Chai and Corona...
Having contuinually passed it up back home, I finally bought myself a Cuvee de Ranke. I will not be passing them up anymore! The is a special beer, packed full of sourness and a brilliant dry finish. Dad brought back a La Chouffe Blonde from the supermarket and so we shared that. It was light and Belgianny and was really nice in the pool.
I think the French must almost love Citra hops as much as I do, such is the prevalence of them in their craft beer. Another French brewery producing an IPA with Citra hops was the Brasserie Correzzene. Their HopHopHop range is definitely a Single Hop Series and this Citra was nice. The hops shone through really well, with a malt base designed to let them show off their stuff.
A visit to Cannes the next day meant a day back on the macro lagers, and after walking around the town in the blazing sunshine a couple of Stella Artois' really hit the spot (never thought I'd say that!). A hoppy Saison called Super 8 from Brasserie Thirez and Brasserie Outland was my first back in the pool for the conclusion of the Tour de France stage. It was what I wished most Saisons were like, with hops allowed to play a part without taking away from the yeast characteristcs.
Cantillon's Iris is one of the great sours. It's so good, with it's luscious floral body. I love this beer beyond words. Alt Sept 65 was far and away my favourite French IPA to this point. It had excellent bitterness and more than enough body for it's 8.3% ABV. After having this I really regretted not buying more from Brasserie de la Valle du Giffre.
So that is France Part 2 done and dusted... We are now looking like 4 parts will be most effective so stay tuned for much more French beer over the next few days, keep the Italian suggestions rolling in. I've sampled a couple of your suggestions recently and have been pretty impressed. France Part 3 is hopefully not too far away...
Remember it's always Beer O'Clock somewhere in the world!