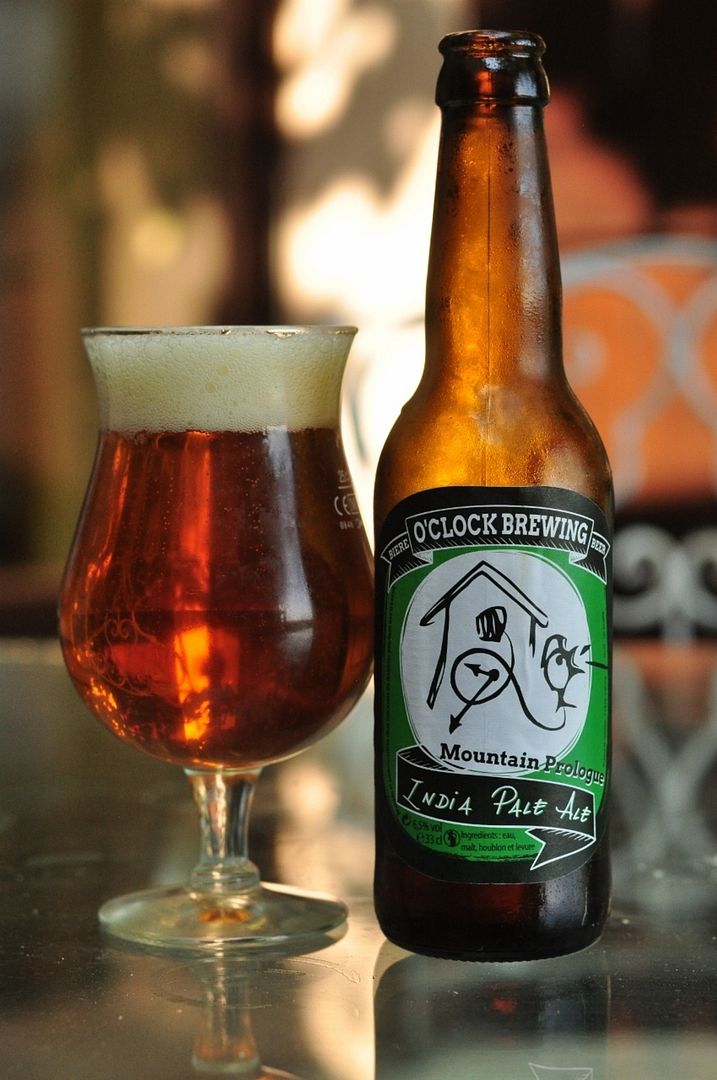 Et Cetebeer
STATS
Country: France
Style: American IPA
ABV: 6.5%
Serving Type: 330 Bottle
Price: Inexpensive
Normally whilst "On Tour" I avoid doing full reviews, but this beers name alone meant I had to! O'clock Brewing (initially sold to me as Beer O'clock Brewing) are a brand new French craft brewery, currently brewing out of the existing Brasserie Galibier while they launch their own brewery near Paris.
I mean, how could I not review something from (Beer) O'clock Brewing? I decided to sample this one whilst watching the end of stage 6 of the Tour de France, the day Tony Martin crashed out, which is quite a different experience in French and without the wondrous wordsmith that is Phil Liggett. It was only about 35, a relatively cool day by our standards whilst in the south of France. Anyway without further ado, let's crack into it!
Firstly I would like everyone to acknowledge my brilliant photography, I think I've finally mastered the camera after however many years it's been. The pour was a slightly red tinged, golden colour with an off white head sitting atop the liquid. The head had good retention and laced the glass quite nicely. The colour of this beer is more reminiscent of an American Pale Ale than an IPA, but it's still a nice looking beer.
The nose was good with signs that a reasonable malt base was present, which was lightly caramelly, combining nicely with the hop aromas. I got both citrus and pine characteristics as well as a little earthiness. Judging by the French love of American hops I'm guessing there's some Simcoe in here - but can't find any information anywhere to back this up.
Whilst tasting the citrus overtook the pine as the clearly dominant hop flavour, with grapefruit being the most prominent. The caramel malt base was not overly noticeable flavour wise, but balanced out the hop bitterness well and provided the right amount of body to the beer. I would say that the bitterness was on the lower end for an IPA (would love to know the IBU's) and this would suit someone trying to transition from Pale Ale's to IPA's. It's got all the right parts in place, it just doesn't quite bring it together as a cohesive unit at the end.
All in all I think that this is a beer with a bit of potential. These guys can clearly brew; I also sampled their American Pale Ale, which I thought was a step above this beer. If you're in France and after an IPA that tastes like an IPA - I would recommend you try and hunt this one down. It's a solid, if not exceptional beer, that will fill that hop void that you're trying to fill. I'll definitely be keeping my eyes out for these beers next time I'm in France.
Remember it's always Beer O'Clock somewhere in the world!