The Beer-thusiast Pack: March
Since the temporary demise of Tru Bru's Bear Club, I've been looking for a beer club to fill the void. Up stepped The Beer-thusiast Pack from one of Melbourne's finest craft beer establishments; Carwyn Cellars.
The Beer-thusiast Pack is delivered to your door monthly. It's composition is a complete mystery until it arrives - although it's likely to include a number of local offerings. Each month 12 beers arrive, including 5 duplicates. As many of you know I'm not generally one for duplicates, which is where Dylan comes in.
Dylan and I share a love of sport and have been playing indoor soccer together for a few years now. Dylan's love of craft beer has grown over the years to the point that he's now an avid Untappd user and works at a boutique bottle shop, with a large craft beer range. His tastes are not dissimilar to mine; with a preference for sours and hoppy beers over maltier offerings.
For the first time in a few years I'm going to have a co-reviewer on Beer O'Clock Australia. The plan is that we'll divide the duplicates at soccer soon after they arrive. We'll both drink them individually and record our thoughts, before getting together to share the single beers in the pack (and possibly a few more!). I think it's fair to say that we've settled on this format for the time being. As usual feedback is always welcome via the usual channels.
This pack was a little different, with 4 duplicates and 4 singles making up the 12 beers. Both Dylan and I had sampled quite a few of these previously. The standouts for me in this pack were the Hobart Brewing Co. Xtra Pale Ale, a brewery I haven't had a beer from previously, and the BrewDog Ace of Equinox, their beers are always good. I've also heard positive things about the 3 Ravens, whilst the pack will also give the Sierra Nevada Sidecar a chance to redeem itself about a pretty inauspicious first tasting.
3 Ravens Thornbury Lager - Lager - 4.9%
3 Ravens have really gone up in my estimations over the last year or so. It's based on a traditional German Pilsner, but utilizes a range of Australian hops (Ella, Summer and the experimental HP-035) and malts in combination with a Bavarian lager yeast. It's a beer that I was really quite keen to try.
"Super smashable! There's not a lot to say about it and I suspect this is what the brewers at 3 Ravens would have wanted. With that said, I did like how subtle the fruity/floral hops were while still being present. It's very well crafted. There seems to be a big trend of suburb based beers going around at the moment and I'd put this up there with the better ones (Coburg Lager, Footscray Ale) rather than the not so good ones (which I'll refrain from naming)."
I was really impressed with this lager. Lager's are widely derided by the Australian craft beer community but I feel that this one could change that. It's wonderfully well rounded and incredibly easy to drink. I'm sure I'll be drinking more of these in due course.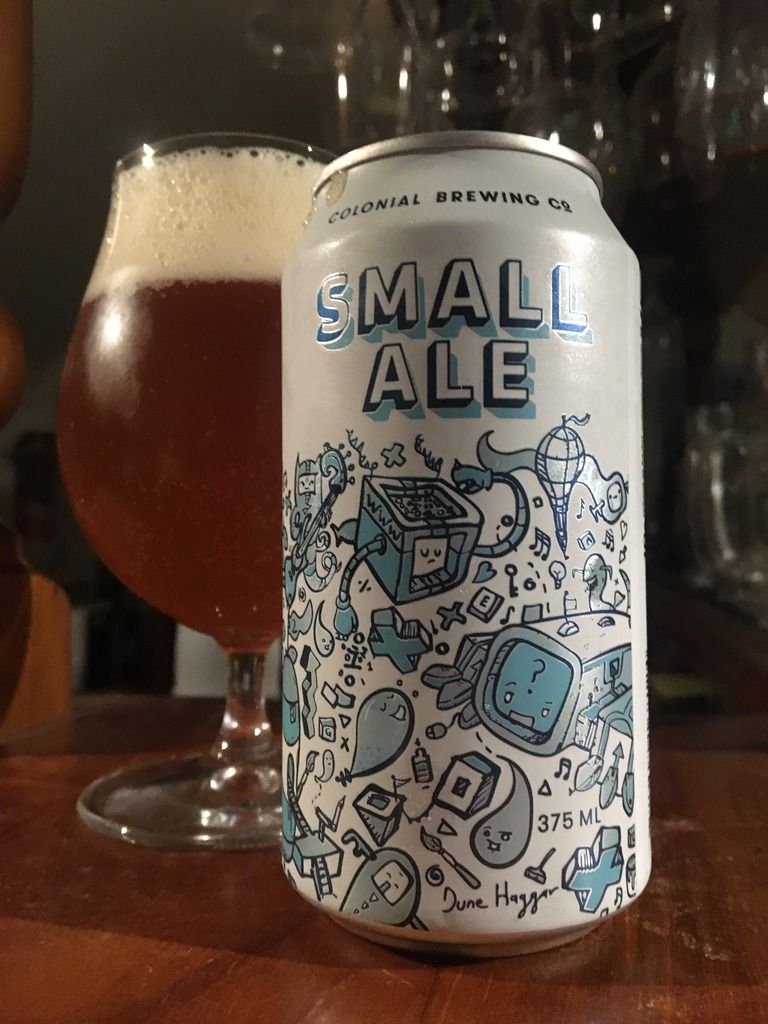 Colonial Small Ale - Mid Strength - 3.5%
The Small Ale from Colonial is a beer that I've become quite familiar with since trying it for the first time as part of the Hottest 100 Beers last year. Packaged in those wonderful cans where the whole top comes off, the beer is something of a hybrid of styles. What is certain however is that it's a damn tasty little beer!

"Nailing down the style of this beer is tough and Colonial themselves seem loath to call it anything in particular. It has been made as a scaled back IPA though so I'd put it in the session bracket of that particular style if pushed. Onto more important notes, this is a beer that has really grown on me. I first had it early last year while over in Perth, attracted by the eye catching design and ring pull cans (which I still really, really like). It impressed me then and has become a staple ever since, packing a lot of flavour into a mid-strength beer. It has a good whack of bitterness but is still light enough to easily drink all day."