The Beer-thusiast Pack: April
Since the temporary demise of Tru Bru's Bear Club, I've been looking for a beer club to fill the void. Up stepped The Beer-thusiast Pack from one of Melbourne's finest craft beer establishments; Carwyn Cellars.
The Beer-thusiast Pack is delivered to your door monthly. It's composition is a complete mystery until it arrives - although it's likely to include a number of local offerings. Each month 12 beers arrive including 4 duplicates, after a recent format change. As many of you know I'm not generally one for duplicates, which is where Dylan comes in.
Dylan and I share a love of sport and have been playing indoor soccer together for a few years now. Dylan's love of craft beer has grown over the years to the point that he's now an avid Untappd user and works at a boutique bottle shop, with a large craft beer range. His tastes are not dissimilar to mine; with a preference for sours and hoppy beers over maltier offerings.
This is our seventh month doing this now and I think it's fair to say that the format has been pretty well received and seems to be working. We'll keep dividing the reviews this way unless we hear otherwise via the usual communication channels. With any luck I'll get these posts up on a more regular basis some time soon!
My initial thoughts on this lineup were mixed; nothing really jumped out at me as being amazing, besides the first release of Hawkers' Hop Edition - an IPA primarily hopped with Mandarina Bavaria. The two offerings from Bodriggy promised to be interesting, one comes with a phenomenal backstory, whilst I'm interested to revisit the 3 Ravens Black, a stout I used to rave about. Also of interest will be Oskar Blues Pinner, which will hopefully be more enjoyable than it's Passionfruit infused cousin of a few packs back...
New Belgium Fat Tire - American Amber Ale - 5.2%
First up is a beer that I reviewed in full way back near the start of this blog in 2012. New Belgium's Fat Tire is an Amber Ale that is well renowned. It's incredibly drinkable for the style although I think it lacks a little in flavour complexity that many good Amber Ales possess, although that could be just be palate shift...
"Not hard to see why this was a 'gateway beer' for many in the US craft scene. Reminds me a bit of something like Mountain Goat's Steam Ale in terms of drinkability mixed with characteristics well apart from the major macro lagers. It's an easy drinking red, light bodied and refreshing with mild grassy hop character. Slightly sweet and fruity malt/yeast flavour. It's not the game changer it would have once been for many but is still a nice little beer, one I'd happily drink again if I saw it on a taplist."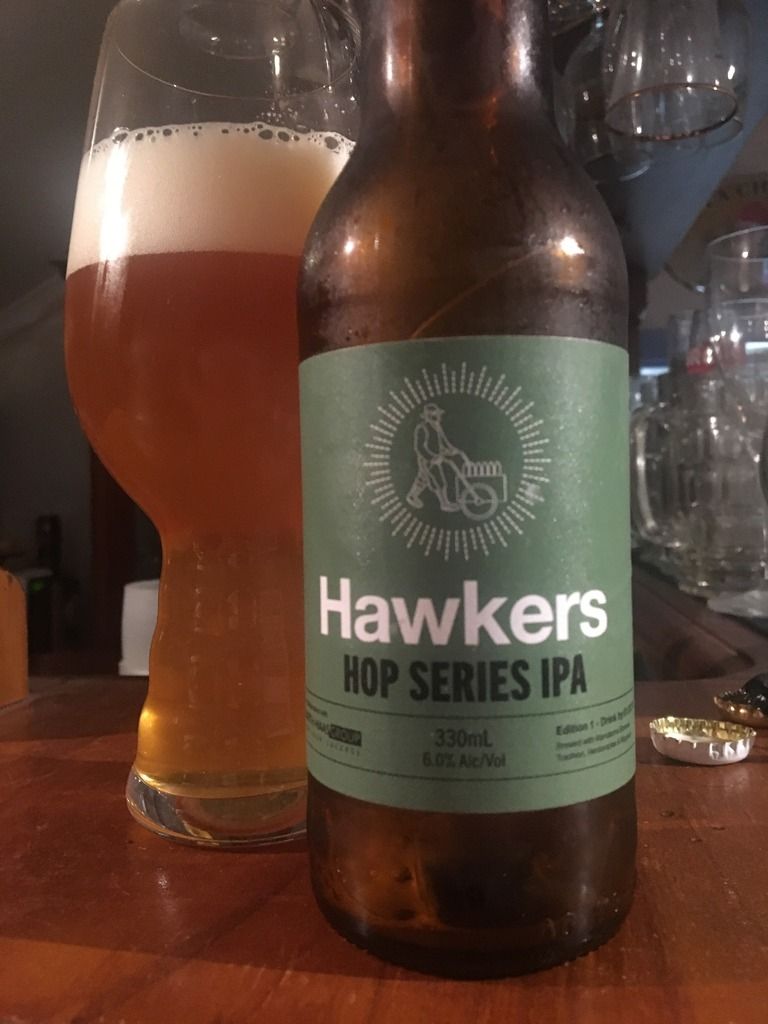 Hawkers Hop Series IPA Edition 1 - American IPA - 6.0%
The only beer I was truly excited for in this pack. Hawkers have teamed up with BARTH-HAAS GROUP, the world's leading hop producers, to create the first, of hopefully many, beers in their Hop Series IPA range. As I understand it, it's a range of IPA's that will showcase hops that they love. Contrary to popular belief they are not single hop IPA's!
"I wasn't as keen on this as I'd hoped I would be. The Mandarina hops are there in spades, lending it a lot of juicy orange flavour, but as a whole it just lacked a bit of spark for me and felt a bit muted. It's one I'm looking to revisit down the line as Hawkers rarely miss the mark when it comes to aligning with my tastes."